Purchase Cheap Edible Mustard Oil Pouch Packing Machines Factory
Views: 11 Author: Site Editor Publish Time: 2021-06-03 Origin: Site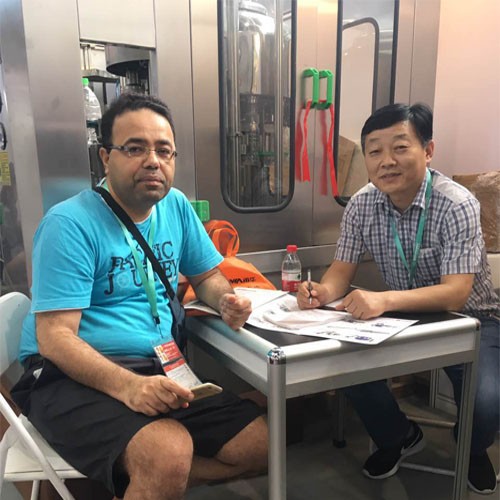 Edible Mustard Oil Pouch Packing Machines
What are the benefits of filling nitrogen in the filling and packaging process of edible oil? In fact, nitrogen-filled packaging is to fill nitrogen into the packaging to prevent food from contacting with oxygen; Vacuum packaging is to remove all the gas in the packaging, preventing the food from contacting with any gas. The same edible oil filling nitrogen is used to effectively prevent food oxidation, mildew, moths, moisture-proof, helping extend the product storage period.
Purchase Mustard Oil Packing Machines
What are the benefits of filling nitrogen in the filling and packaging process of edible oil? Now many manufacturers also fill nitrogen in packaging machinery of edible oil! The appearance of vacuum nitrogen filling package is beautiful and generous. Vacuum packaging appearance comes broken, so it is not easy to see the real shape of the packaging products, packaging class is not high. Vacuum nitrogen-filled packaging, internal and external pressure difference balance (-600 ~ -700 MMHG) air will not be able to gradually penetrate into the packaging bag through the micro hole, prevent premature corruption, deterioration of fresh products. Vacuum nitrogen-filled packaging is most suitable for the fragile, and it is impossible to achieve vacuum packaging for extrusion materials (such as flowers, chips, snack food, etc.).
Cheap Mustard Oil Pouch Packing Machine
Some food or material with water content, due to the pressure difference in the bag after vacuum packing, the oil content and water content of the food or material seeps out, which will affect the internal quality and appearance of the food or material. Some Fried food or fruit and vegetable crisp, using vacuum nitrogen packing, can effectively prevent food rancid or extrusion, extend the storage time.
Edible Oil Pouch Packing Machine Factory
Using this equipment for packaging can help maintain the quality of packaging items, you can choose any hot melt packaging materials, so the packaging cost is low, being filled with nitrogen can prevent the outside gas and water immersion, and extend the storage period. This machine is not equipped with vacuum chamber and vacuum pump, but vacuum generator is used to vacuum and fill the packing bag with nitrogen directly. This machine has low energy consumption, saving 0.75kw power consumption of vacuum pump, packing speed is more than twice that of general cavity packing machine, and energy consumption is only 40% of similar packing machine.
For consumers, food safety and health is the only goal pursued by enterprises. Food enterprises are not only able to meet national standards, but also pursue higher than national standards. There is no end in the pursuit of food safety. Although food nitrogen filling technology cannot completely replace additives, additives and nitrogen filling technology can be used together. Reducing the use of additives through nitrogen filling technology can be regarded as the way for a pursuit of health.